"WE UNDERSTAND THAT REGARDLESS OF YOUR CIRCUMSTANCES OUR SERVICES MUST BE TRULY PRACTICAL & TOTALLY AFFORDABLE"
Endo Solve has evolved from over 50 years of combined experience in environmental sustainability and operational expertise.
In the light of recent events our primary focus is the need to support and work with organisations of every shape and size to enable them to re open their premises and compliantly remain open with the health, safety and protection of their clients, customers and staff/personnel as being essential and in doing so giving all of those affected the confidence and peace of mind they need to move forward in a world where we now know nothing can be simply taken for granted .
As an organisation we have a real understanding that our services and solutions cannot just be about putting the best possible solutions and services available in place for your business from a health and safety perspective but at this time when all companies, businesses and organisations already face significant financial pressures our solutions must always be commercially and financially viable, that our services must be truly affordable for you and for all those in need of them.
From July we shall working closely with local Chambers of Commerce, trade organisations and directly with companies and organisations of every size and from every sector to help give then the expertise and practical support needed.
All advice we provide will also be focused upon being 100% environmentally responsible in every way with no chemicals hazardous or damaging to the environment to be used in the delivery of our service either in their production or use .
We only use Endo Enterprises water treatment technology within in our solutions program which are 100% safe in every way.

The original and most advanced and complete silver stabilised hydrogen peroxide perfect for every situation


100% ENDOSAN DEDICATED AND DRIVEN ENDO SOLVE SOLUTIONS & PROCESSES:AIR & HARD SURFACE DISINFECTION ( CORONAVIRUS AND OTHER VIRUS CONTROL) BY MEANS OF COLD FOGGING.ENDOSAN 5.HARD SURFACE DISINFECTION ( CORONAVIRUS AND OTHER VIRUS CONTROL) BY MEANS OF FINE MIST SPRAYINGENDOSAN 3.ANTI-LEGIONELLA TREATMENT (HOT & COLD WATER SYSTEMS) BY MEANS OF SHOT OR CONSTANT DOSING.
BIO-FILM REMOVAL, SYSTEM DISINFECTION AND WATER TREATMENT BY MEANS OF CONSTANT DOSING.
ENDOSAN 500.

HAND SANITATION & DISINFECTION BY MEANS OF PUMP DISPENSER
ENDOSAN 1.BUILDING OPENING PLANNING & STRATEGIES (ENDOSAN APPROVED DELIVERED BY ENDO SOLVE).ONGOING HYGIENE PROTOCOL'S, DAILY, WEEKLY, MONTHLY (ENVIRONMENTAL HEALTH COMPLIANT) BY ENDO SOLVE.ABOUT ENDOSAN.
EndoSan is a highly effective water treatment solution which is a truly credible alternative to traditional chlorine disinfection methods. It will totally remove biofilms whilst being non-corrosive at dose rates. Maintaining its efficacy at a wide range of temperatures and pH values, EndoSan is odourless, colourless and tasteless; lending itself to many applications in the field of water treatment.The Health and Safety Executive support the use of EndoSan as a constant dose biocide in their official guidance document: HSG274 Pt 2 – The Control of Legionella Bacteria in Hot and Cold Water Systems.
BENEFITSHighly Effective Biofilm Remover ~ Conforms To EN13623 & EN13626 ~ Unrivalled Stability & PerformanceForms No Harmful By-Products ~ pH Neutral When Dosed ~ Proven Efficacy & Globally ApprovedEffective Between 0°C and 95°C ~ Odour, Colour & Taste Free (Unlike Chlorine) ~ Leaves No Sticky Residue (Unlike Chlorine)Three year shelf-life. ~ NSF ANSI/CAN 60 Certified ~ DEFRA Approved Disinfectant Not Harmful Or Dangerous To The Environment In Any Way Either In Production/Manufacture Or Use (Unlike Chlorine)NOT TOXIC OR POTENTIALLY HARMFUL TO HUMAN, ANIMAL OR PLANT LIFE WHEN USED (UNLIKE CHLORINE)Building Opening Strategies

Anti Legionella treatment of hot and cold water systems , tank sanitation and bio film removal from supply pipes (Gov stating all buildings that have been empty and non operational must be diligent).

The provision of premises opening and ongoing operational documented hygiene protocols specific for all sectors not only enabling organisations and businesses of all sizes to safely open and safely stay open but also provide compliant documentation to clearly demonstrate their commitment to do so.WHAT IS LEGIONELLA?
The bacterium Legionella pneumophila and related bacteria are common in natural water sources such as rivers, lakes and reservoirs, but usually in low numbers. Unfortunately, given the right conditions, Legionella bacteria can prosper in purpose built water systems in any type of premises.
When water contaminated with Legionella bacteria forms small droplets suspended in the air (aerosol or vapour), there is a very high risk of inhalation and the potential contraction of Legionnaires disease
HIGH RISK LEGIONELLA AREAS
Cooling towers, evaporative condensers, spa pools/jacuzzis, hot and cold water systems. Systems that feature outlets like showers are particularly problematic, as water is turned to an aerosol and dispersed into the atmosphere.
Hospitals and nursing homes are higher risk as vulnerability to Legionnaires' disease increases with age and pre-existing health issues.


EndoSan Effective Disinfection Against Coronavirus
By Aaron Martin | Apr 29, 2020 | EndoSan
The Coronavirus responsible for the current pandemic situation is an enveloped virus that probably originates from animals and is currently further transmitted between humans. The exact route of transmission is still under investigation. However it is clear that the small water droplets (aerosols) expelled during sneezing and coughing by patients contain virus particles and are a source of infection.
Personal hygiene measures are the first step in preventing the spread of viruses. Next to that, it is important to regularly clean and disinfect surfaces that may be contaminated and thereby act as transmission route. This requires a disinfectant that is able to effectively kill the pathogens.
EndoSan is a disinfectant with virucidal efficacy under clean and dirty conditions. The definition of a virucidal biocide is to reduce the amount of viruses with a log 4, this is a 10,000-fold reduction.
EndoSan is a unique and strong broad spectrum disinfectant based on hydrogen peroxide and silver. This type of formulation is also called silver stabilised peroxide. Both components have a synergistic effect against viruses. EndoSan has been used globally for the disinfection of drinking systems, hard surfaces in various areas such as industry, intensive livestock industry, medical facilities, ships and residential homes.
EndoSan is also used for decontamination and disinfection by fogging. Especially because an important transmission route of coronavirus is airborne aerosols caused by coughing, it is important to disinfect the air in rooms where carriers of the virus have been present.
FOGGING/MISTING
Fogging or misting EndoSan provides simple and unattended total room disinfection. Our devices provide full coverage decontamination including walls, floors and any other surfaces.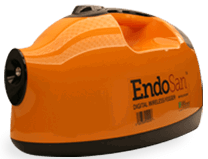 S
URFACE DISINFECTION
EndoSan is also available in 500ml trigger sprays, ideal for quick and easy targetted surface disinfection.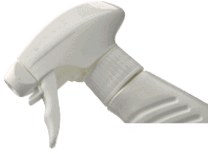 CONSTANT DOSING
Constant dosing provides precise, proportional and automated dosing of EndoSan. We offer leading edge, pulse fed, direct injection dosing systems that feature warning LED's to alert for replenishment.
All dosing systems are cost effective and installation/maintenance packages are also available.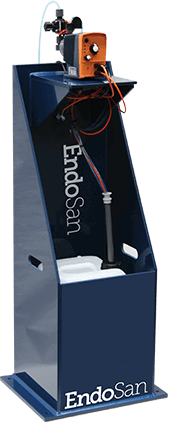 CONSTANT DOSING
EndoSan constant dosing systems can be seamlessly fitted into any livestock drinking system. Installation is simple and quick and the continuous dosing of EndoSan, at very low required dose rates, ensures water is protected in an automated and controlled manner.
24/7 automated protectionLow maintenance and cost effective Proportional, metered dosingLow chemical warning alerts

DOSAGE CALCULATOR
SYSTEM USAGE/VOLUME:*
ENDOSAN CONCENTRATION:*




DOSAGE STRENGTH (AS PEROXIDE) REQUIRED:*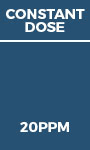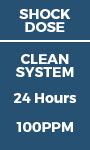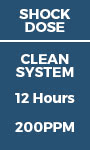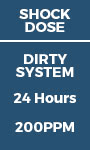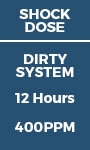 ENVIRONMENTAL CREDENTIALS
EndoSan
is truly biodegradable and leaves no residual in the end-product. Post disinfection EndoSan degrades into water and oxygen, substances that are found naturally.
EndoSan
is chlorine and alcohol free, with no corrosive effects on usual materials of construction during application.
WE ALSO OFFER AND PROVIDE WORLD LEADING ENERGY SAVING & CARBON OUTPUT & FOOTPRINT REDUCTION SOLUTIONS & SEREVICES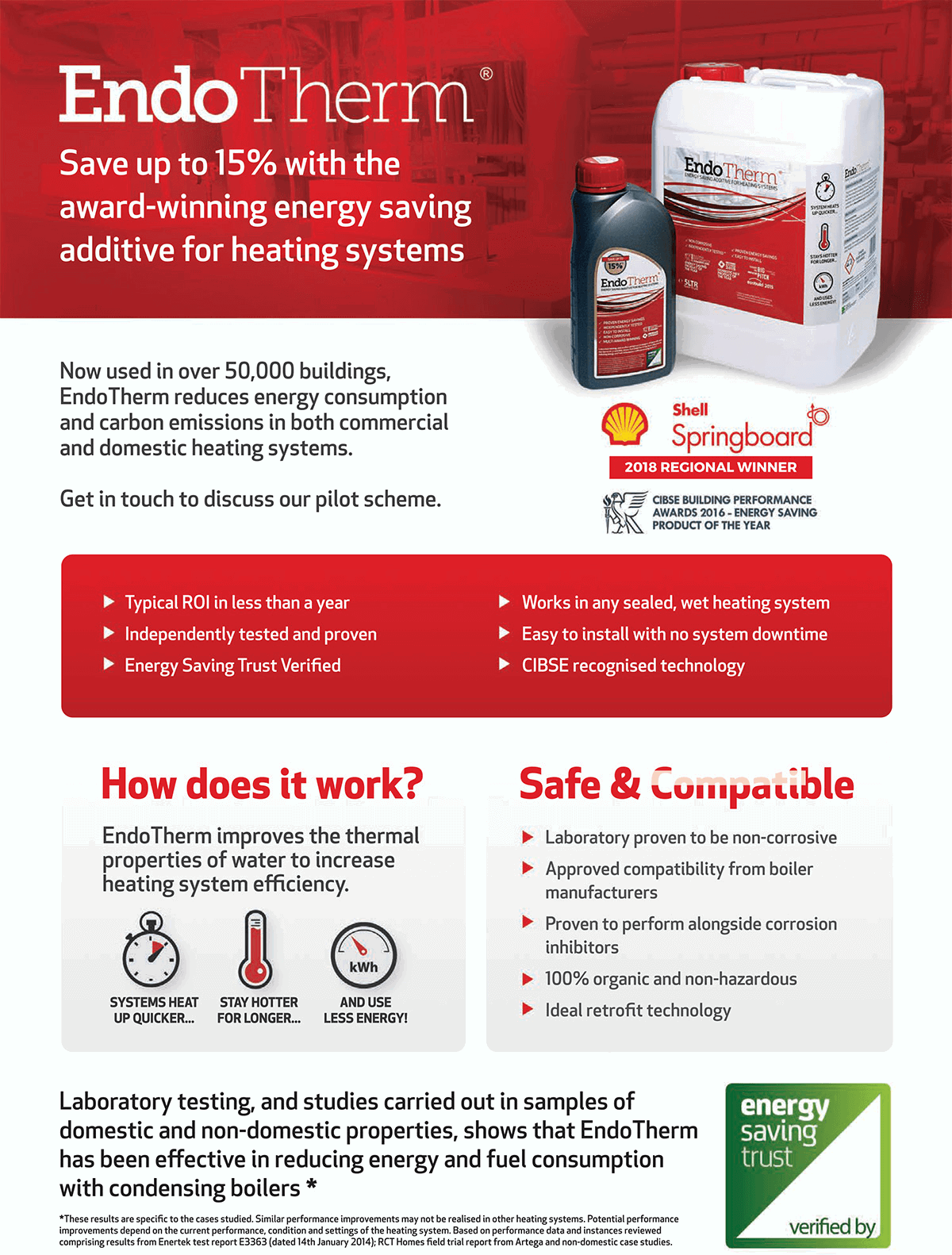 How EndoTherm Works
EndoTherm is an energy saving additive which can be added to any wet based central heating system. Due to the surface tension of fluid and imperfections in materials inside heating systems optimal thermal contact is not madeWhen dosed EndoTherm stably changes the surface tension of the fluid by over 60% whilst remaining non-corrosive.This increases the thermal contact which improves heat transfer rate and efficiency. Resulting in rooms reaching determined temperature quicker and staying warmer for longer.Return water temperature is lower which allows boilers to condensate more efficiently and recover more latent heat.Less fuel is consumed to maintain thermostatically set temperature.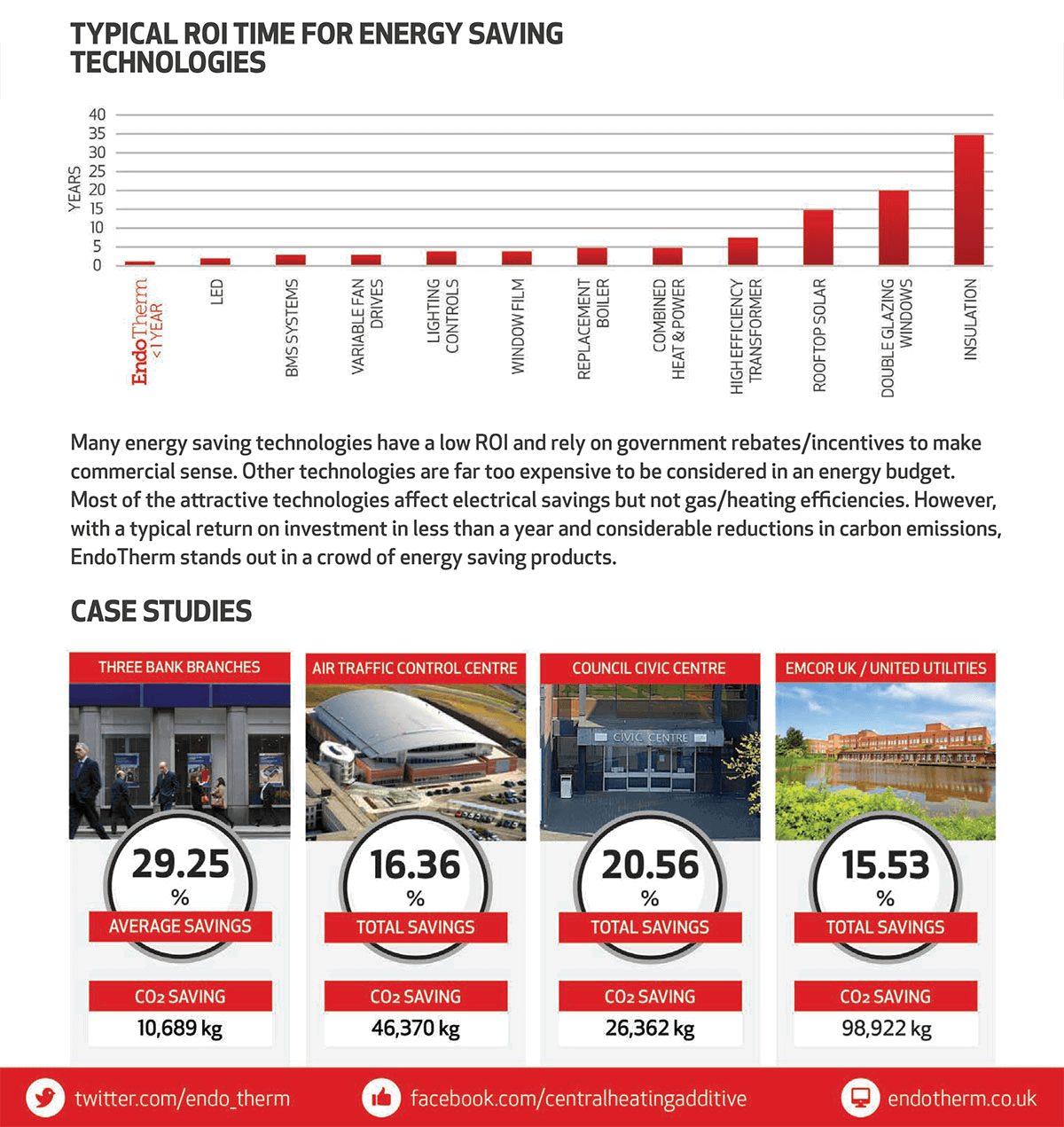 ENDO ENTERPRISES & I-BUILD ECO ARE AS PASSIONATE ABOUT THE ENVIRONMENT AS WE ARE ABOUT ENDO TECHNOLOGY CONTRIBUTING TO A BETTER WORLD.
There is no doubt that Endo Enterprises company policies and dedicated staff have a green outlook. They are proud to produce products whose very essence are to reduce pollution, carbon emissions and environmental waste.
Their campaign to introduce environmentally conscious technology raises awareness of the limitations and pitfalls of some of the traditional approaches to water disinfection and energy use.
They strive to comply and exceed existing environmental regulations and regularly assess the relevant environmental effects of our customer's activities and our own operations. We also expect similar environmental standards from all suppliers and contractors.
We are proud to work with them.. Andrew Bean MCGI Bsc AKC AAT (Commercial Development Director) I-Build Eco.TREATMENT AND EFFICIENT USE OF WATER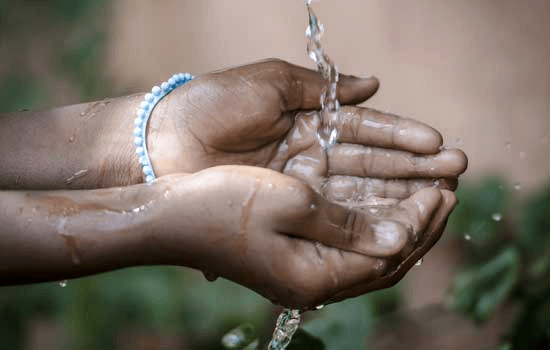 We and Endo Enterprises
strongly believe the world's water supply is a most precious resource, yet the process cycle of water usage in even in the most developed countries is far behind a truly sustainable approach.
Endo Enterprises represent an alternative approach to water treatment, using biodegradable technology to challenge old chemistry.
Clean water means healthy living, for human or animal consumption. Whether used in production or in finished products, ensuring good quality of water is a cornerstone of our company.
With over 70 years of combined experience in water treatment Endo Enterprises are well placed to assist us in helping our customers in choosing more responsible water treatment solutions.
REDUCING CO2 EMISSIONS.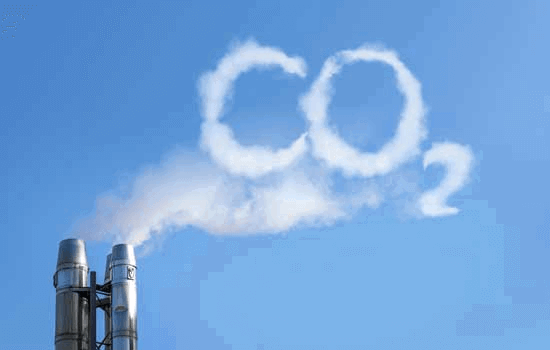 I-Build Eco and Endo Enterprises
are dedicated to protecting the environment by helping thousands of commercial buildings and households to improve the energy efficiency.
Take a look at the performance of our award winning EndoTherm, and you'll see how the energy efficiency improvements we are providing are saving tonnes of CO2 every year for each and every building it is installed into.
EFFICIENCY BEGINS AT HOME!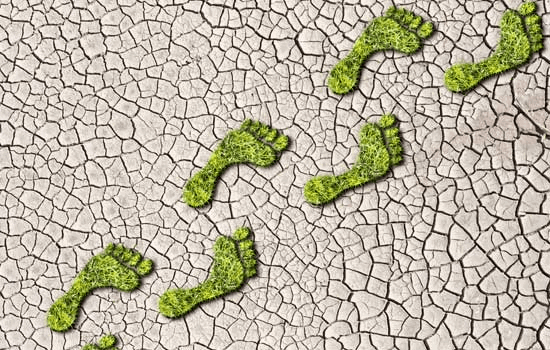 By working in close association with Endo Enterprises not only do we help others to reduce their carbon footprint, we work hard to reduce our own too. By implementing a number of environmentally friendly measures, we are constantly improving the way we work, to reduce our own impact on the environment.
We Fulfil This Commitment By:Complying With Environmental Regulations.
Conducting Operations In An Environmentally Sound Manner.
Applying The Principles Of Reduce, Reuse & Recycle In All Processes.
Promoting Environmental Responsibility Among Our Employees.
Striving To Ensure That Suppliers Agree To Comply With Environmental Regulations.
Pursuing Continuous Improvement In Our Environmental Performance.
Clearly Communicating Endo Enterprises Environmental Policy, Practices, And Impact To Interested Parties.IT'S THE ONLY PLANET WE HAVE!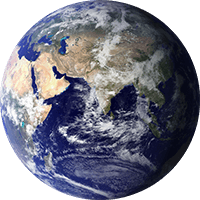 We sincerely hope our ability to develop and select environmentally sound products along with our dynamic approach to each market sector will make some impact in ensuring we look after the planet in the way it looks after us.

Endo Enterprises are proud to share our Environmental policy and green product credentials upon request.